Printable Craft and Activity Patterns for this Lesson Includes:
25 Pages
Psalm 139 "You Are There" Coloring Sheet Pattern
"You Are There" Itty Bitty Book Pattern
"You Can't Hide from God" Color and Paste Hide and Seek Activity Sheet Pattern
Games and Songs
All the patterns, games, and lessons in this store come from Danielle's Place and are available through a yearly membership for $23.95.
This is the second lesson in the Psalms 139 series.
You can find details about this lesson on Psalm 139 Bible Crafts and Activities "You Are There" on Danielle's Place of Crafts and Activities.
The first lesson is free – Free Psalm 139 – Sunday School Lesson "God Knows Me" to find a link to the second lesson in this series.
Not Included in this lesson.  You can also Purchase Ten Coloring Sheets to go with this Lesson.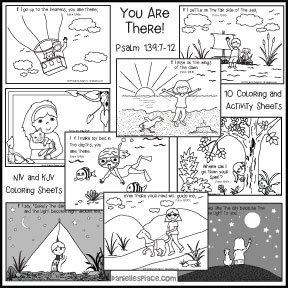 NIV Coloring Sheets – (Purchase separately)
KJV Coloring Sheets – (Purchase separately)
Fill-in-the-Words Coloring Sheets – (Purchase separately)