You Are There – Psalm 139 Bible Lesson
25 Pages
All the patterns, games, and lessons in this store come from Danielle's Place and are also available through a yearly membership for $23.95.
This is the second lesson in the Psalms 139 series.  The first lesson is free – Free Psalm 139 – Sunday School Lesson to find a link to the second lesson in this series.
Not Included in this lesson.  You can also Purchase Ten Coloring Sheets to go with this Lesson.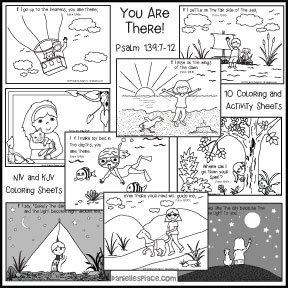 NIV Coloring Sheets – (Purchase separately)
KJV Coloring Sheets – (Purchase separately)
Fill-in-the-Words Coloring Sheets – (Purchase separately)