If you have already purchased an All-Access Pass
If you have already purchased an All Access Pass, click on "My Account" and login. If you would like to re-download an all-access pass purchase. Find that purchase under "My Account" and re-download it.
Click on the links below to purchase the All Access Pass you prefer. Log in at any time, select the downloads you prefer, and download them. The more downloads you purchase, the more you save.
Note: Many of the $2 downloads are also available in the Bible lessons that include many items. So you can also save money by purchasing the more expensive lessons that include many crafts and activities.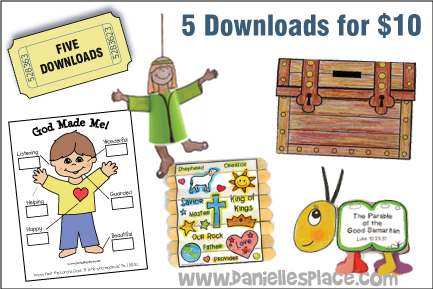 Pick Any Five Downloads for Ten Dollars – More Information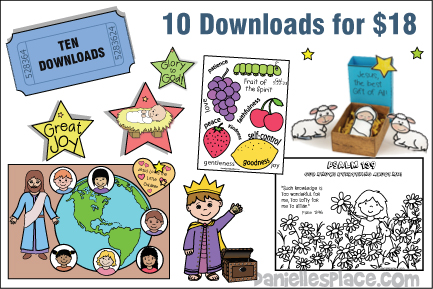 Pick Any Ten Downloads for Eighteen Dollars – More Information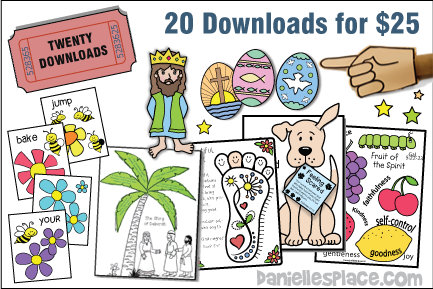 Pick any 20 Downloads for $25 – More Information
If you use more than 20 downloads a year, consider purchasing a subscription to The Resource Room for $25.95 a year. This is a members-only site that gives you access to 25 years of materials from Danielle's Place of Crafts and Activities. With this subscription, you don't download the complete lesson in one pdf. The lessons, craft patterns, and Bible Games are all separate PDFs. You pick the ones you want to download or print out.
How You Can Use These Downloads
All the craft patterns, ideas, songs, lessons, etc. on this website are copyrighted.
1. You may print out and make copies of any of the crafts and activities for your personal use, for use in schools, libraries, Sunday school, etc.; however, you may not publish the material in any form without permission. (Publishing means making them available to others in print, on the web, on a blog, etc.) For more copyright regulations see our Copyright Page.