In this lesson, children learn that God is the master of making things new. New Year is a time when people begin anew by making changes in their lives, but we don't have to wait for the new year to be renewed. God can renew our minds, spirit, and strength every day of the year.
This lesson includes the following:
1. 2 Corinthians 4:16 Printable Bible Verse Cards – NIV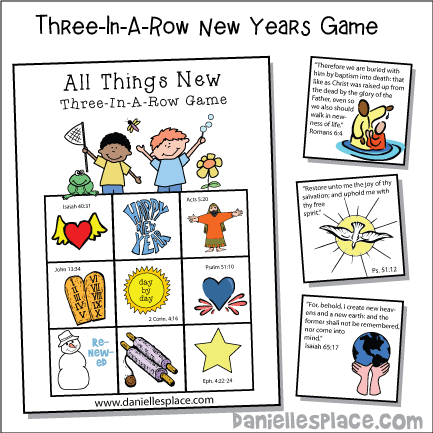 2. "God Makes All Things New" Snowflake-themed Coloring Sheet
3. New Year Desk Calendar Craft with 2 Corinthians 4:16 Bible Verse.
4. "God Renews us Day by Day" Coloring Sheet with happy children and Bible Verse.
5. Complete Bible Lesson – God renews our spirit, strength, and minds.
6. Three-in-a-Row Bible Verse Review Game with 15 different cards.
7. Drawing Game to reinforce the teaching concept.
8. New Year's Resolutions Guessing Game.
All the patterns, games, and lessons in this store come from Danielle's Place and are also available through a yearly membership for $23.95.
You can find details about this lesson on the New Years Bible Lesson on Danielle's Place of Crafts and Activities.
You must log in and be a buyer of this download to submit a review.