Printable Patterns for this Craft Includes:
23 Pages Including:
Baby Jesus in a Manger Activity Sheet
Baby Jesus in a Manger Printable Envelope Craft
Matchbox Manger and Baby Jesus Craft
Paper Jesus in a Manger Envelope Craft
Jesus in a Feather Bed Manger Activity Sheet
Best Gift Bible Verse Review Game
"Pin the Feather in the Manger" Bible Game
"A Star So Bright" Song
All the patterns, games, and lessons in this store come from Danielle's Place and are also available through a yearly membership for $23.95.
You can find details about this lesson on the "Christmas Crafts – Jesus, the Best Gift of All!" Bible Lesson Page on Danielle's Place of Crafts and Activities.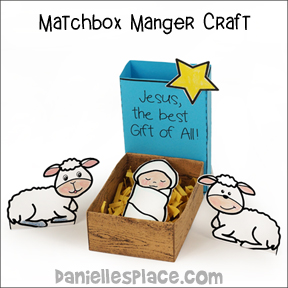 You can also purchase the matchbox manger Craft separately.