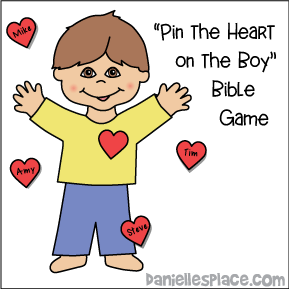 This Bible Lesson includes 26 pages:
Printable Bible Verse Cards – KJV
Boy and Girl God Made Me! Posters – KJV – Children color the picture and then paste the words in the appropriate place.
My Happy Heart – Psalm 63:7 Bible Verse Craft – KJV. Children color the heart, glue on the wings, and then attach a string to hang the pendant.
Path to a Happy Heart Craft – Psalm 144:15 – KJV – Children cut on the lines and then glue on happy face stickers or foam shapes.
Cut-and-Paste Activity Page for the "God Made Me" Book – Children glue happy hearts to the Bible verse activity sheet.
Coloring Activity Page for the "God Made Me" Book – Children color the happy hearts and review the Bible verse.
Interactive Bible Lesson – Teaching Concept: God created us to do good things. He made us to glorify him, and he wants us to have happy hearts. We can be happy when we make God our Lord, obey him, pray, and give thanks.
"Pin the Happy Heart on the Child" Bible Game – Play like the "Pin the Tail on the Donkey" game.
Happy Heart Pins or Necklace Craft
Songs
All the patterns, games, and lessons in this store come from Danielle's Place and are available through a yearly membership for $23.95.
You can find details about this lesson on God Made Me – My Happy Hear Bible Lesson Page on Danielle's Place of Crafts and Activities.
You must log in and be a buyer of this download to submit a review.