This Download Includes 19 Pages:
Printable Bible Verse Cards – KJV and NIV
In this lesson, children learn that their mouths are created for good things not bad. God can help them control their tongues and to say only what is good and true.
"Say Good Things" Bible Activity and Coloring Sheet with Psalm 141:3- KJV and NIV
Mouth Biscuits Recipe
Songs – "My Wonderful Parts" sing to the tune of "This Old Man"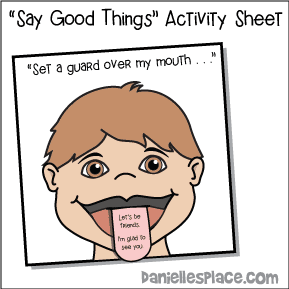 All the patterns, games, and lessons in this store come from Danielle's Place and are available through a yearly membership for $25.95.
You can also save money on this download with an All Access Pass. Pre-purchase a number of downloads, pick the crafts, lessons, and activities, and download it within one year.
This lesson is the first lesson in the God Made Me Bible Lesson Series. You can find more learning activities and crafts relating to Creation and God Made Me on the God Made Me Bible Lesson Page on Danielle's Place of Crafts and Activities.
You must log in and be a buyer of this download to submit a review.