Teaching Concept: Jesus teaches that we should be happy, exceeding glad, when people make fun of us, call us bad names, or hurt us when we stand up for what is right. We can be happy knowing that we are pleasing to God and that we will be rewarded in heaven.
This download includes Bible lessons or children's sermons, crafts, and learning activities for both younger and older children in the NIV.
Printable Craft and Activity Patterns for this Lesson Include 21 Pages: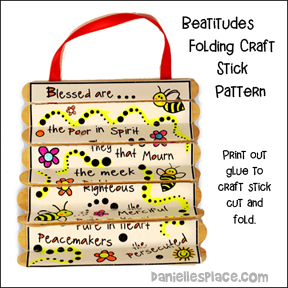 1. Bee Paper Lunch Bag Craft Holding a Bible Verse Sign – NIV
2. Color or Paint a Flower and Bee Color Sheet – NIV
3. Dandelion Bible Verse Color Poster – NIV
4. Dandelion Picture with Chenille Stems and Plastic Forks – NIV
5. Beatitudes Folding Craft Sticks Patterns
6. Bible lesson using a Bee Puppet
7. Flower Musical Chairs Bible Verse Review Game
8. Bible Verse Review Activity Sheet – NIV
All the patterns, games, and lessons in this store come from Danielle's Place and are also available through a yearly membership for $25.95.
You can find details about this lesson on the Beatitudes Bible Crafts – Peacemaker on Danielle's Place of Crafts and Activities.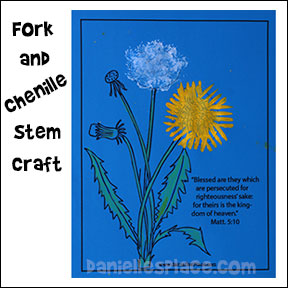 You must log in and be a buyer of this download to submit a review.