Teaching Concept: Children learn through Abigail's example that it is better to keep the peace than to be sorry later for what you did in anger.
This download includes Bible lessons or children's sermons, crafts, and learning activities for both younger children from kindergarten through second grade in both KJV and NIV.
23 Pages of Printable Craft and Activity Patterns for this Lesson Include: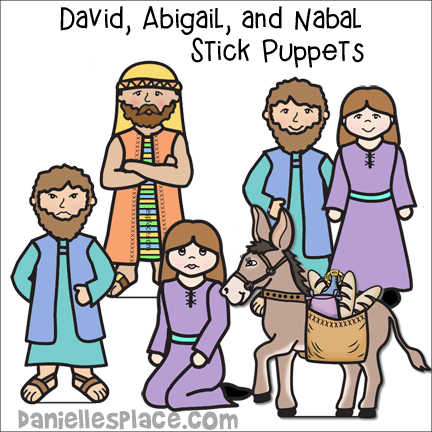 1. Bible Lesson – This interactive Bible lesson uses Bible stick puppets to tell the story of Abigail bringing gifts to David and his men to avoid a fight between him and her husband, Nabal.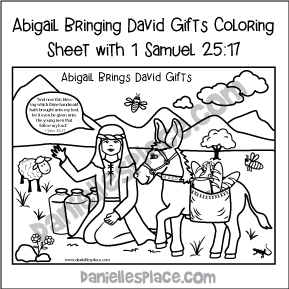 2. Abigail Gives David Gifts Coloring Sheet with 1 Samuel 25:27 – KJV and NIV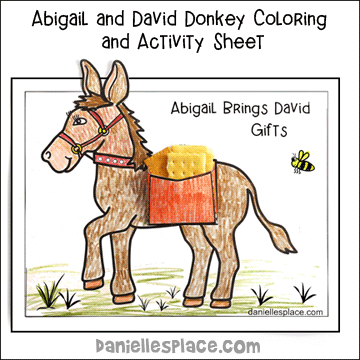 3. Help Abigail Pack Food for David and His Men Activity Sheet – Children place crackers or other food items in the donkey's pack. As they work, the teacher tells them that today's lesson is about a woman who packed her donkeys with lots of food for David and his men because her husband wouldn't.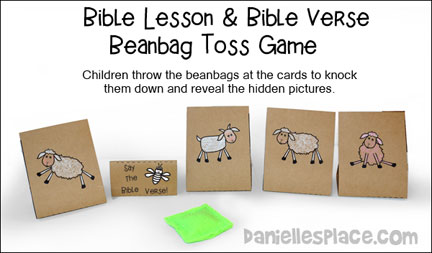 4. Bible Lesson and Bible Verse Review Beanbag Toss Game – Children throw beanbags or balls at the game pieces and try to knock the pieces backward so that the pictures on the bottom of the cards pop up. The child who knocks over a game piece should either say the Bible verse or tell something about the Bible lesson relating to the picture shown. Keep playing until all the children have had a turn throwing the beanbag.
All the craft patterns, games, and lessons in this store come from Danielle's Place and are also available through a yearly membership for $23.95.
You can find details about this lesson on the Abigail, David, and Nabal Bible Lesson Ideas Page on Danielle's Place of Crafts and Activities.
You must log in and be a buyer of this download to submit a review.